---
Designed for
Youth and intermediate level football players
Fit
Custom fit provided by patented Adaptive Head Protection System, no air pumps needed
FitBand: A silicon band that cinches to the head, providing a custom fit
Fitlock: Injected high density foam pad that conforms to the occipital bone for ultimate fit and comfort
Repositionable 3DX Jaw Guard for customizable fit
Feel
3DX Chin Cup features silicon liner for superior comfort and secure fit
VN Comfort Pads features soft, conforming, breathable material
Safety
All the same technology of the Varisty Epic+ in a youth helmet
Technology
Multi Stage shock absorbers enhance protection from linear and rotational forces by generating multiple levels of counteracting force
Shock suspension system allows the bonnet and head to move independently from the shell, de-coupling the head from linear and rotational forces
Polycarbonate shell designed for high level impacts
Six vents on each side of the helmet shell create maximum airflow keeping the head cool during play
VN Comfort Pads provide high impact resistance
Size Chart
Measurements should be taken 1 inch above the eyebrow around the circumference of the head. The Size Chart is a recommended as a guideline only. Individual Head Sizes May Vary
Fit Instructions Video
Customer Reviews
12/23/2019
Kealii
United States
I recommend this product
Great Helmet!
Bought for my 12 year old who plays Center, D-End and OLB to replace his X2E+ following his 2018 season. Son loves the helmet, no complaints of headaches or sore head as some of his teammates had. Some of the dads loved the look and protection of the helmet and got the X2E+ for their sons as well! A great Xenith team worked quickly to paint and recondition the helmet following the season! You've got a believer here!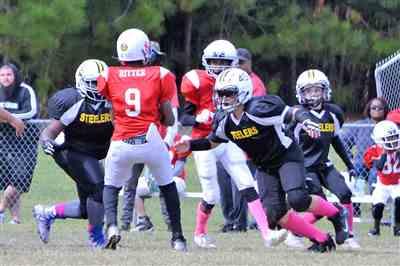 12/16/2019
Ronald H.
United States
I recommend this product
Xenith Helmet
Great design more protection
Confidence in Fitting the Helmet
The ease of fitting these helmets on my little guys was a smooth process. You don't have very many instances where you are questioning if the helmet fits or not. The fit system and strap system is great!
Customer Review Rating (out of 5)
Adaptive Head Protection
System of patented technologies designed to provide a custom fit with no pumps needed, and to help minimize the sudden movement of the head during impact.
Shock Suspension System
Allows the helmet and shell to move independently, mitigating rotational forces.
Fit Band
Silicon band that conforms to head shape and size for a custom fit.
✓
✓
Fit Lock
Injected high-density foam that conforms to the occipital bone for the ultimate fit and retention.
✓
-
Shock Absorbers
Multi-Stage: Provides enhanced protection from linear and rotational forces by generating multiple levels of counteracting force.
Single-Stage: Provides protection from linear and rotational forces.
Multi-Stage
Single-Stage
Comfort Pad Material
XRD: High-tech soft and pliable foam that hardens on impact for additional protection.
VN: Traditionally used foam in Varsity football helmets.
EVA: Traditionally used foam in Youth football helmets.
VN
EVA
Shell Material
Polycarbonate: Stronger shell designed for high level impacts.
ABS: Lightweight, durable shell typically used at the Youth level.
Polycarbonate
ABS
Chin Cup Style
3DX Chin Cup: Features silicon liner for superior comfort. Hybrid Chin Cup: Features soft cup interior with non-slip antimicrobial liner.
3DX
Hybrid
Weight (Standard Mask)
Weight (lbs) based on size large helmet with standard facemask.
4.05
4.00
# of Vents
Series of vents on each side of the helmet shell to allow for airflow during play.
12
6
Designed For
Suggested level of play.
Youth
Youth